Gravel Tour Tasmania November 2024
Gravel Rides with Beardy McBeard
Friday 08 - Tuesday 12 November 2024
Come along, get away, ride your bike and support local businesses
Staying in one central location in Hobart for the five days, we will head out each day for some truly spectacular rides. Towns and iconic landmarks we will pass through include kunanyi / Mount Wellington, Margate, Kingston Beach, New Norfolk, Cygnet, Longley and many more.
Our riders will be supported by guides, mechanics and vehicle during each ride. Then post rides, you will experience some fantastic dinners in some of the best restaurants in Hobart.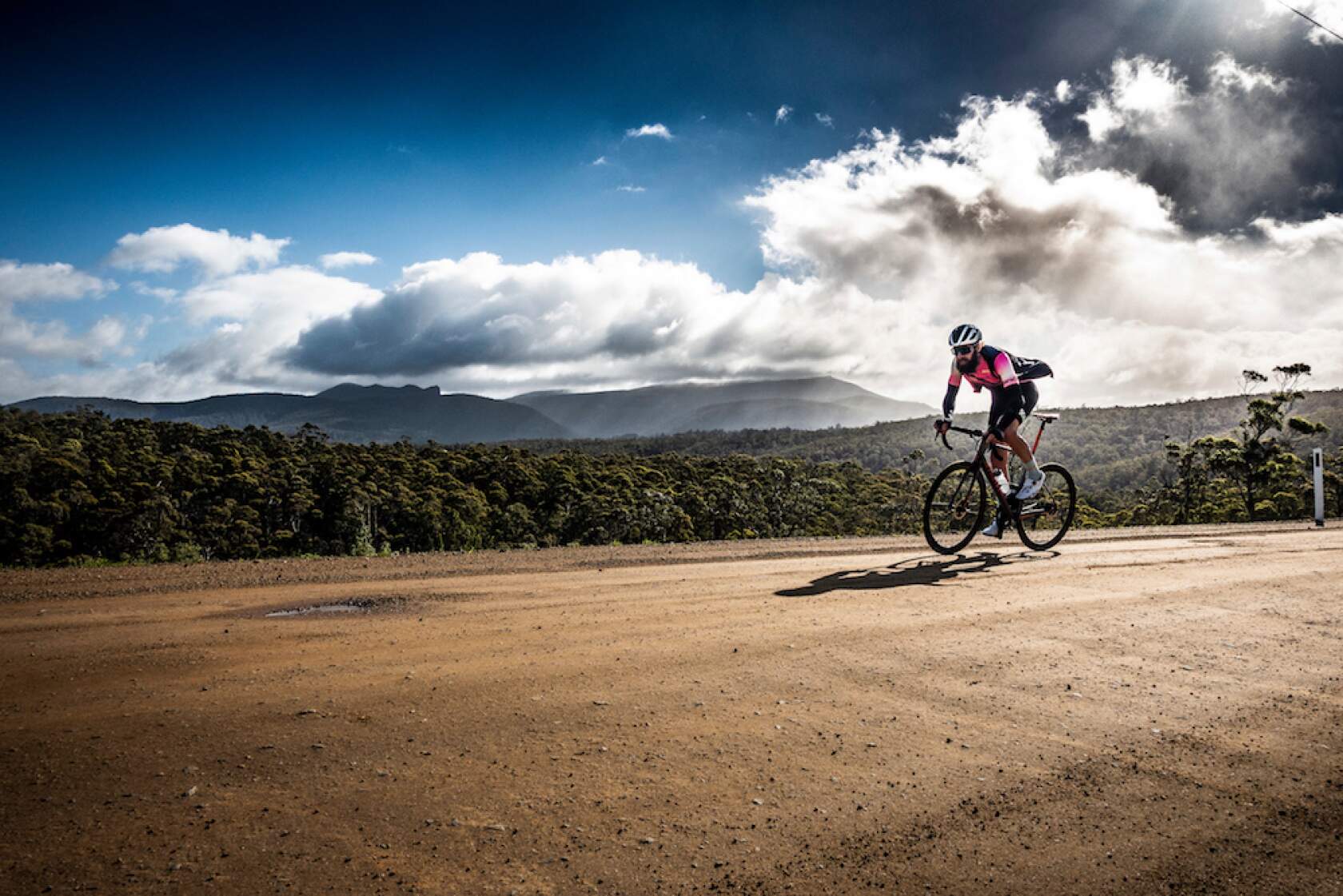 Photo - Marcus Enno (beardymcbeard)
Why join us?
The chance to explore the best gravel roads (groads) around beautiful Hobart 

Rides will vary from ~30km on the first afternoon to +100km and 2,000m ascent

Ride with and receive photos from Beardy McBeard

There will be two groups heading out each day, a faster and slower group

Ride with locals who will show you their secret loops

All rides depart from the Hobart so you will spend four nights on tour in the same bed

Guides, mechanics and support vehicle will be available on all rides

Ride nutrition including bananas, bars and gels plus hydration powder and cold drinks

Mechanics and tools available for help with bike building and packing down if necessary

Airport transfers for you and your bike offered on tour days

Ride as much as you want and have the option for day a off to exlore Hobart

Each day you will have access to a bag drop for all rides. In the morning, drop your bag (musette) at the designated start location, access it during the ride and then collect at the end of the day's ride

All breakfasts, three top level dinners and one lunch included in the tour price

First round of drinks at each dinner

Support local businesses

Come with your mates or meet some new riders

Accommodation at the very comfortable Old Wool Store in Studio Apartments with Kitchenette, Washing Machine & Dryer plus much more

See the FAQ tab below for full details 

All the details
Old Wool Store Hobart : Studio Apartments with Kitchenette, Washing Machine & Dryer plus much more
$2,345 Double/Twin Occupancy - Queen or Twin Bed*

$2,795 single supplement
*NOTE : For Studio Double/Twin Occupancy - the bed configuration is ONE x Queen Bed or TWO x Single Beds
Non-riding partners
If your partner would like to come to Hobart to join you, no problem.  
They can join us for meals, spend a day in the support vehicle OR they can do their own thing each day.  
Please contact us for more details info@twowheeltours.com.au  
Prices start from $600 for non-riders.
50% deposit payment is to secure your spot

Final payment is due 3 months before the tour

All details will be outlined on your statement

See FAQs below for Inclusions and more details
The Old Woolstore Apartment Hotel
1 Macquarie St
Hobart TAS 7000 
Studio Apartments with Kitchenette, Washing Machine & Dryer plus much more
*NOTE : For Studio Double/Twin Occupancy - the bed configuration is ONE x Queen Bed or TWO x Single Beds
Day 1 : 2:00pm tour officially starts : Transfers from Hobart Airport (HBA) throughout the morning and early afternoon: Build bikes and ~27km w/ +630m in afternoon, depature ~3:30/4:00pm : Dinner in Hobart with twowheeltours 
Day 2 : ~85km w/ +1,100m ascent : Head out East of Hobart : Dinner in Hobart with twowheeltours
Day 3 : ~70km w/ +1,250m ascent : Head out North of Hobart : lunch with twowheeltours during ride : Dinner on your own
Day 4 : ~100km w/ +1,700m ascent : Ferry then Head out South of Hobart : Afternoon at own leisure : Dinner in Hobart with twowheeltours
Day 5 : ~23km w/ +650m ascent : Final ride. Back at hotel by ~10:30am to shower and then box bikes : Transfers to Hobart Airport throughout the afternoon
Riders will receive the Full Itineray once they book - please email us
Average Totals for Five Days of Riding
Time : ~16:00

KM : ~300

Elevation : 5,330m
Day 1 
Time : 1:40 // KM : 27 // Elevation : 630m 
Day 2
Time : 4:30 // KM : 80  // Elevation : 1,100m
Day 3
Time : 3:00 // KM : 70 // Elevation : 1,250m
Day 4
Time : 5:30 // KM : 100 // Elevation : 1,700m
Day 5
Time : 1:20 // KM : 23 // Elevation : 650m
* At own cost
Itinerary subject to change
FAQs
All land based transfers to/from Hobart Airport (HBA) on tour days plus accommodation and the following meals : all breakfasts, one lunch and three dinners plus first round of drinks.
We will have ride guides, mechanics - including pumps, tools etc and support vehicle during the tour. 
Riders will also have access to sun cream, specific ride hydration and nutrition. 
Flights

Insurance

Hire bike

Massages

Café stops

In-room charges

One dinner

All lunches except one
Arrive early before midday on the first day of the tour.
Depart after 2:00pm on the last day of the tour.
You are to book your own flights.
Do not bring a standard road bike on this tour.  
From Hobart we will not be directly onto gravel. On average there will be ~50% gravel v's paved on the rides.
You will primarily be riding on gravel  and paved road, a few walking paths and fire trails.
Width ... 38 would be ok. Beardy has ridden all the courses on 40mm and he says it's perfect. There will be a few sections of single track which can be a little bumpy but 38's should get your through. 50 would be plush/a little too much.
It is always a 'nice problem' to have when you can decide on which wheel size to bring ie 650B or 700C. From recent tours, most riders will be on 650B wheels. 
We would highly recommend the Panaracer Gravel King SK (Small-Knobs) 'Plus' tubeless are "the gravel tyre". They are Panaracer's flagship model and the ones which put Panaracer to the forefront in the Gravel scene. The 'Plus' adds a little weight but it offers greater security and worth the weight - I will be riding 48's but you could go for 40 or 43's. 
Your crank and cassette can be standard, we do not recommend that riders alter what they have on their current bike. Some riders will have 2x set ups while others will have 1x. There will be some steep sections during the days plus some longer flatter sections where you will want higher gears.  
We have know Beardy for many years. He moved down to Tasmania in 2018 and has thrived in his new environment.
Beardy's Bio : There is no-one in cycling photography quite like Beardy McBeard. Part professional photographer, part yarn-spinner, part cult icon, part mountain goat. Instantly recognisable to thousands of cycling fans all over the globe - he's famous for not only his beard, but for his well-meaning run-ins with the local constabulary (as he pushes for 'that' shot), for his sing-a-longs with frenzied cycling crowds and for being a man of the people - joining his fans at roadside for a cup of vino and a hearty slice of jamon as he shares his passion for cycling with anyone who will listen. In a world of finish-line and podium shots, you'll find Beardy instead perched in highly precarious places, balancing on rock, leaning over cliffs, climbing tress, swinging off street bollards - whatever it takes to capture the passion, suffering, history and pageantry of this great sport. Shots that tell the story of the race, and the people behind it.
In his own laconic style he brings you on the journey with him, telling the story behind the photos and bringing forward the personalities and colour that make the sport the spectacle that it is.
From Tasmania to Belgium to France, Beardy has a very simple goal; he wants you to love this sport as much as he does. We hope you will enjoy the ride with him as much as we have over the years!
~ +100km with +1,400m of climbing. See the Itinerary tab for our agenda. Full details will be emailed to riders once they have booked.
We have been running tours since 2009 and know what riders need and expect. We will have a Tour Manager, driver and ride guide / mechanic on tour. 
A month before the tour, riders will receive the web links to the rides so that they can download the GPX files. On the links, riders will be able to see the elevation gains and total km's.
We are not planning on getting up at 6:00am to ride as early as possible. On this tour we want you to explore, taste and drink Tasmania.  
Wake up

Breakfast - included

0745 twowheeltours staff set up in front of Hotel

Drop your musette(s) with twowheeltours staff. You will see those bags again at designated rest stops and at the ride finish. In those bags you can put nutrition, extra clothing and/or leave clothing

Depart 0800

Our support vehicle will be roaming during each ride. In our vehicle will be First Aid, sun cream, nutrition, water, fruit, your mussette(s), tools and pump

Cafe stop on offer on during rides*

Finish rides between 1130 and 1600 

Lunch* on your own with the exception of one day's lunch 

Meet 1830 at the designated restaurant for dinner where a nightly briefing will be held
* At own cost 
This is not a tour where we are planning on 'smashing' out each ride as fast as possible.
We will have ride captains on each ride and a support car. We are not expecting to ride in pelotons for the entire time.
GPX files will be shared with the riders and we will have designated re-group points.
The rides are not 'flat' so expect a lot of climbing on each ride.
Day 2 : 80km with 1,700m
Day 3 : 100km with 1,500m
Day 4 : 90km with 1,800m
We highly recommend that you do some bike handling skills beforehand as there will be a little bit of single track MTB riding on some days.
If riders wish to have a day off or head out on their own using their own GPS device, that is more than okay. 
Full details, including Strava links, of the rides will be shared with those coming on the tour. 
This is not a tour for beginners!
The loops are long and far from flat and the weather can play as massive part in each days ride. We expect that riders can ride back to back +100km days and be able to ride for 50km without needing to stop. 
We also expect that riders can ride in a bunch situation, have some gravel bike handling skills (there are some MTB trails which will be ridden) and have had experience riding on gravel on a gravel bike.
We will split the rides into at least two groups, a fast and slower bunch. 
Each rider is different. A training program certainly helps, especially when talking to a coach who has a wealth of experience.
We like to encourage riders with the fact that the fitter they are, the more fun they will have. 
We have a range of coaches who we highly recommend. For further details on training programs, costs etc - CLICK HERE. 
twowheeltours is more than happy to assist with this request. Please email us on info@twowheeltours.com.au so that we can organise exactly what you would like. We are more than able to assist you if you would like to come in two nights before the tour or spend extra nights post the tour in Hobart. We can be as flexible as you need.
twowheeltours is more than happy to assist with this request. Please email us on info@twowheeltours.com.au so that we can organise exactly what you would like. If you are just able to come in for the weekend, that is not a problem.
twowheeltours will have a full tool kit for your use on the tour.
They will be transported by twowheeltours to and from the airport or your hotel. Your bike box will be stored at your hotel in Hobart during the length of the tour.
Yes, we should be able to assist. Please email is info@twowheeltours.com.au asap so that we can begin to organise your hire bike. 
Never packed your bike before? Drop into your favourite Local Bike Store (LBS) and ask them to assist you. You could ask them to do it first then build it up, then you have a go - all for a price. Or you can become a profession via youtube - LINK. When boxing the bike, we would highly recommend removing the derailleur from the derailleur-tip. It takes a few extra seconds/minutes but is worth if just in case your bag is poorly handled in the transit. Watch this link for more specifics.  This is a clip is by 'Computer' a Sydney mechanic, excuse his hair and finger nails, he really is a good guy! 
We will be there to help you build your bike. 
How long is a piece of string, there are SO many out on the market it is amazing, each year there seems to be something new and improved. We have used the EVOC Bike Travel Bag for the last 4 years - they have now updated to the PRO. We have used the EVOC Travel Bag countless of times for our MTB and road tours. It has NEVER had any issues, NEVER had my bike damaged and we really like it. I also have two 'bits' to make life a bit easier - CHAIN COVER & ROAD BIKE ADAPTOR. It may take a little longer to use this bike but once you have done with travel the bag compacts down. Other options are : Polaris do some very good models or Scicon Bags or there is the Helium one which gets great reviews OR go to your LBS and get a cardboard box.
We will have a designated area at the start and finish of the tour which can be used to build your bike. We will be there to assist with the building of your bike. 
To assist you in building your bike there will be the required tools plus bike stand, track pumps, torque wrench, grease, chain lube, rags, plastic gloves and hand wipes.
In many years of traveling with a bike, there have never been any issues with boxing and flying with our bikes. Note, some airlines do charge for excess baggage while others do not, it also depends on your status with your airline. We highly recommend that you weigh your bike before you get to the airport and it is also highly recommended that you check prices and the fine print for excess luggage (ie bike bags / sporting equipment) with whoever you are flying with. Please do this before you get to the airport.
Relax, shower and head out to lunch* or sit in a café* and talk to other riders, take a nap, rehydrate and/or grab a massage*. There is generally a reasonable amount of time to relax before dinner.
* At own cost 
It is highly recommended that riders bring tubes, mini tool, levers etc which you would normally take on a long ride - recommended pack list.
During the rides you will need to be somewhat self sufficient, riders will be asked to carry a tube, levers and an air cannister.
It is also recommend that riders bring specific spokes and derailleur tip/hanger - you will be reminded of this during the booking phase. There will be cables, chains and tires available and bike shops are close to the hotels.
Each rider must be prepared for colder temperatures, and not only rainy weather. Tasmania can have four seasons in a day, please make sure you pack:
Hardshell helmet

Long sleeve thermal jacket

Full finger winter gloves

Thermal overshoes

Leg warmers/leggings
The jacket should be 'waterproof' and 'windproof'. The one which we have been using in the past is Pearl Izumi Elite Barrier Jacket. We also pack a lighter spray jacket plus a gillet/vest to come away with. 
Other choices are:
PEARL iZUMi Interval Amfib Cycling Jacket

Attaquer All Day Rain

Gore Stretch

Castelli Perfetto 
February? 
Min 13C / Max 22C with an average of 4 days of rain 
March? 
Min 12C / Max 20C with an average of 6 days of rain 
November? 
Min 10C / Max 19C with an average of 7 days of rain 
It is recommended that riders bring 5 sets of cycling clothing. 
Is there gear that I HAVE to wear?
You can cycle in whatever gear you would like, we recommend that you bring cycle clothing that you have ridden in before.
Your accommodation has a washing machine and drier.
For dinners - there is no dress code. Even at our welcome dinner and farewell dinner there is no specific dress code, jeans, t-shirt and sneakers are more than suitable. There is only so much you can pack.
All riders, pre tour, should have their bikes FULLY serviced including, bottom bracket wear/tear, rims checked, new tires, inner tubes, brakes and cables.  
We have mechanics on tour. All riders will be able to use our tools for any of your needs. There is NO charge for our mechanical work but if extra parts are needed riders will be charged as necessary.
There are places to wash our bikes when on tour.
We will have riders with 1x set ups with large rear cassettes. We also anticipate that some riders will have standard and compact crank set ups. We do not recommend that riders change the crank set up on their current bikes for this tour. For the rear, we recommend at least a 28. 
Riders should have their own insurance which covers all aspects such as medical, flights, bike damage etc. 
Travelling away from home is always an adventure. As part of your tour, the hotels will supply you with a daily breakfast and we will supply you with one lunch and three dinners.
If you have eating requirements/needs please let us know when you book in the comments section and we will endeavour to meet your needs.
We will have ride specific bars and gels on the tour.  Everyone has their favourite nutritional companies. Please do not hesitate to bring along what you are happy with and what you trust.
Feel free to contact our Sports Dietitian, Chloe McLeod, who we use to help guide our clients for smarter eating on such events - more information click here. 
All riders must respect the traffic laws:
To cycle on the left hand side of the road, at ALL times

To respect all road signs and traffic lights

To respect other road users who are not involved in the tour

To wear your helmet at all times
You main focus once you have booked with us is training and booking your flights. You will be required to completed some twowheeltours paper work.
Paper work
We require you to sign a waiver from twowheeltours.
Hotel and location
Please see the Accommodation tab for more details. 
Non-riding partners
If your partner would like to come to Hobart to join you, no problem. They can join us for meals, spend a day in the support vehicle OR they can do their own thing each day. Please contact us for more details info@twowheeltours.com.au 
Prices start from $600 for non-riders.
Payment
Upon booking a deposit is required, all details of payments will be outlined on your invoice.
How do I make the remaining payments?
Via direct deposit, all details of payments will be outlined on your invoice. 
Payment can be made by Square Up - Amex, MasterCard or Visa* - there are transfer fees associated with Credit Card payments. Please contact us so that we can send you an invoice from Square Up.